Who would be your sexy player for 2009? Vote here.
- General Discussion about online poker.

As you have seen, my sexy player for 2009 is durrrr, and he will probably still be for the years to come. Here at coinflip we (at least I) would like to know who the users vote for sexiest poker player of 2009.
Guest
---
For the gay community it would definitely have to be Durrrr, but for the rest of the world Lacey and Liv have it in the bag.
Posts: 9
Joined: 19.03.2009
---
Evelyn Ng or Vanessa Rousso
TROLLZ: "Sauce kind of reminds me of Vanessa Selbst. Both are fat with fucked up haircuts."
Posts: 51
Joined: 25.01.2009
---
Seems like Doyle has a crush on Patrik Antonius, LOL
From Doyle's blog:
"Jenny Woo, who writes for gambling911.com, picked me as the sexiest poker player for the second straight year. Obviously, she picks me because I'm the only one that won't bring heat on her. It's pretty obvious that Jenny and I haven't been intimate because if she had seen my naked body, she would be even more embarrassed than me. Thanks anyways Jen, it's good for my image. What is really funny is she had Patrik Antonius #2. I'm probably the most heterosexual person God ever put on earth, but Patrik is so handsome, when I look at him I go hmm-
"
...I'd choose Liv Boeree though
Posts: 8
Joined: 06.06.2009
---
EvilTrout wrote:...I'd choose Liv Boeree though
Most def!
Posts: 12
Joined: 04.06.2009
---
I think there's something very cute about Sandra Naujoks. She looks very much like my ex, though...
Posts: 19
Joined: 20.01.2009
---
There's quite a few sexy female poker players but here's couple of my favorites:
Shannon Elizabeth obv!
<3 Liv Boeree <3
Posts: 8
Joined: 31.03.2009
---
I have to disagree. Liv Boeree's beauty is nothing but a make-up trick. Of course anyone will look good with tons of make up, someone who does your hair and nails for you, etc. And don't get me wrong, she is cute, I just don't think she is outstanding looking when we see her on day-to-day life. For example, compare this picture to the one above, here she looks just like cute girl next door:
To me, probably the sexiest poker player overall, considering male and female, would be Patrik Antonius.
Posts: 1
Joined: 27.02.2009
---
You're right sidebet24, there should be some way to retrieve 'non-photoshopped' versions of each sexy player, could it be possible to get cardplayer or such to make poll on sexiest players w/o makeup/phoshopping. That would be awesome.
Posts: 8
Joined: 31.03.2009
---
Sidebet makes a good point, but photo shop is what makes us drool over tons of not-so-hot women all over the place... hollywood, runways, porn... you name it.
It's a shame Serinda Swan never really developed into a poker player, cause... Wow!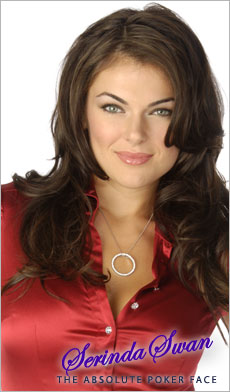 Posts: 9
Joined: 19.03.2009
---
---
Return to Online Poker and Poker Strategy
Who is online
Users browsing this forum: No registered users and 0 guests